---
Bobby Shew
Trumpet
(Feedback)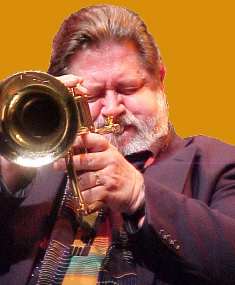 Born Albuquerque, NM. Started guitar at age eight but switched to trumpet at age ten. At age twelve, asked to play in a local "dance band" for weddings and dance gigs. Discovered improvisation at first rehearsal. The love affair with jazz started there and has become the driving force in Bobby's life.
Spent summers after high school in New York City listening to the great jazz masters. Attended the first two years of Stan Kenton Summer Jazz Clinics in Bloomington , IND. In 1959 and 1960, where he was able to study under jazz greats Don Jacoby, Conte Candoli, Johnny Richards, Sam Donahue, John LaPorta, Shelly Manne, etc. Attended UNM for two years studying Architecture and Commercial Art. Drafted into Army, assigned as jazz soloist to NORAD BAND in Colorado Springs. After service, moved to NYC and joined Tommy Dorsey Orchestra, rooming and playing with legendary Charlie Shavers. After Dorsey, went to Woody Herman, Buddy Rich, Maynard Ferguson, Si Zentner, Benny Goodman. Settled in Las Vegas for 7 years playing top show bands in casinos. Toured as lead trumpeter for Elvis Presley, Barbra Streisand, Robert Goulet, Steve Allen, Paul Anka, Connie Stevens, and Tom Jones. In 1972,  moved to Los Angeles and became a first-call studio musician as well as continuing to play on big bands of Bill Holman, Bob Florence, Louie Bellson, Toshiko Akiyoshi, Ed Shaughnessy, Bill Berry, Don Menza,  and Nat Pierce-Frank Capp Juggernaut. In addition, Bobby played and / or recorded with combos of Bud Shank, Horace Silver, Art Pepper, Carl Fontana, and his own highly regarded quintet and sextet.
Co-Designer / developer of SHEW model Yamaha 6310Z & 8310Z trumpets and 6310Z & 8310Z flugelhorns. Designer of SOLOIST mute, Yamaha SHEW series trumpet and flugelhorn mouthpieces as well as SHEW series mouthpieces for the Marcinkiewicz Company and for Kelly Mouthpieces ( Lexan  mouthpieces ).
Author of "ETUDES AND EXERCISES FOR JAZZ AND CLASSICAL PLAYER"  & "BASIC STUDY GUIDE FOR TRUMPET" .  Former Chairman for IAJE (16 years ) and ITG. Former Assoc. Professor of Trumpet at USC ( Los Angeles – 11 years ) , Cal. State Northridge-18 years ) Calif. Institute Of The Arts ( 3 years ) . Numerous Artist-in-Residencies world-wide in Germany, Netherlands, Belgium, Japan, Canada, Austria.
  Elected into New Mexico Music Hall Of Fame. Numerous (3) Grammy nominations and 1982 Received Jazz Album Of The Year award from RIANZ ( New Zealand ).
In 2014 awarded the Lifetime Achievement Award for Performance and Education from the International Trumpet Guild as well as the Lifetime  Jazz Legend Award from the Jazz Educators Network. Also awarded an Honorary Doctorate Degree from Elmhurst College in Elmhurst, Illinois.
---
PAUL Harshman
Artist in Residence at the University of Washington

(Feedback)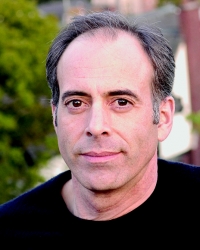 Artist in Residence, Jazz Studies (Big Band)
Paul Harshman is an Artist in Residence at the University of Washington where he serves as the Director of the Studio Jazz Ensemble.  He is also the Band Director at Hamilton International Middle School in Seattle as well as the leader of the pH Factor Big Band.
As Director of Bands at Kentridge HS in the 1990's, Shorewood HS from 2000-2009, Lakeside School from 2008-2015 and Shoreline Community College from 2010-2015, his bands consistently received superior ratings at festivals and contests throughout the West.  His jazz ensembles were considered among the finest in the nation, winning many of the most prestigious jazz festivals in the country including the Berklee College (Boston) Jazz Festival, the University of North Texas Jazz Festival, the Reno Jazz Festival, the Fullerton Jazz Festival, the Lionel Hampton/ University of Idaho Jazz Festival and the Mt. Hood Jazz Festival.  His groups have qualified for the Essentially Ellington Festival in New York City five times and in 2005 and 2008 received the Honorable Mention Award at that festival.
In 2009 the Shorewood Jazz Band won their division at the Reno Jazz Festival for the fourth consecutive year and also won a Downbeat Magazine Award for High School Jazz Band Performance.  His ensembles have performed through invitation at the Mid-West Band and Orchestra Clinic in Chicago, the Montreux Jazz Festival in Switzerland, the North Sea Jazz Festival in The Hague, Netherlands, the 2001 MENC National Conference in Washington D.C. and the 2007 International Association of Jazz Educators Conference in New York.  They have also performed with guest artists such as Maynard Ferguson, Phil Woods, Steve Houghton, George Cables, Allen Vizzutti, Marvin Stamm, Arturo O'Farrill and the University of North Texas One O'clock Jazz Lab Band. 
Paul received his Bachelor of Arts Degree from Central Washington University and his Master of Music Degree from Northwestern University.  While at CWU, Paul was an All-American in Track and Field and still holds the school records for both the 10,000 and 3,000-meter runs.
---
Mike McMullen
Faculty. School of Music, Sacramento State.
(Feedback)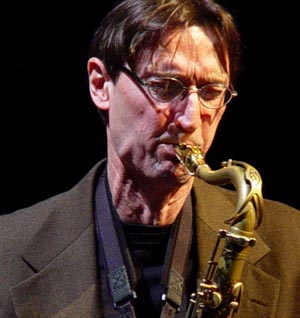 Mike McMullen has been a professionally working musician for over 30 years. His career as a performer, composer, arranger, and educator has taken him all over North America , Europe , and Scandinavia, and into almost every imaginable musical setting.
He studied clarinet at the NaviBase Music School in Little Creek, Virginia, jazz saxophone with Joe Henderson in San Francisco, and flute at the SF Conservatory with Mong Pil Kim. Mike was awarded a NARAS Scholarship in 1978 to study composition and arranging at the prestigious Dick Grove School in Los Angeles, and he continued woodwind studies there with Phil Sobel for seven years.
In addition to his work with the Jazz Studies program at Sac State, Mike is a founding member of the Sacramento region's premier jazz group, the Capital Jazz Project. He is in his eighth year as director of the UC Davis Jazz Band, is on the adjunct jazz faculty at ARC, performs summer and winter shows for California Musical Theatre, records numerous CD projects, television and radio commercials, and travels back to Europe to work every year. Mike also performs many elementary school programs in the greater Sacramento area and maintains a large private student roster.
As an educator, Mike spent three years on staff at the Dick Grove School in LA, initiated the Newpark Jazz Program in Dublin, Ireland, and has participated as a guest artist/clinician at many schools and camps throughout Northern Europe, Scandinavia, and the Western US. He recently served as an artist/clinician at the Brubeck Institute Jazz Camp, and a guest artist for CSU, Stanislaus.
Aside from his work as a leader, Mike has performed in concert, toured, or recorded with such artists as Ray Charles, Dave Liebman, Randy Brecker, Bobby Shew, Sonny Fortune, Richie Beirach, Pat LaBarbara, Manhattan Transfer, Dianne Schuur, Doc Severinsen, Emily Remler, Natalie Cole, Pepper Adams, Moacir Santos, Kenny Wheeler, and Norma Winstone. Commercially he has worked as an arranger, conductor or performer with Radio Orchestras in Ireland, Denmark and Belgium, and in Los Angeles for Arab American Television, Motown and Screen Gems Publishing, Hanna Barbera, and artists Olivia Newton-John, Tony Orlando, The Moody Blues, The Temptations, and television's Taxi.
---
Steve Zenz
Percussion
(Feedback)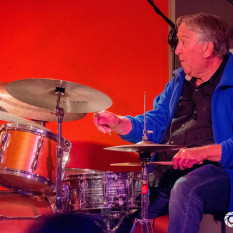 Steve Zenz, percussionist, has been performing music professionally for nearly 40 years. A native of Chippewa Falls, Wisconsin, he obtained a Bachelor of Music Education degree from UW-Eau Claire in 1975 and a Master of Music Education degree from UW-Stevens Point in 1987. Mr. Zenz's career in education has spanned more than two decades and has included appointments at UW-LaCrosse and UW-Stevens Point and is currently employed by the Slinger Wisconsin Public School. Steve has performed with the Wisconsin Chapter of Young Audiences Inc., taught at Point Music Camp at UW-Stevens Point, Birch Creek Music Center in Egg Harbor, Wisconsin, the Summer Youth Program at Michigan and the UW-Green Bay Summer Jazz Camp.
---
Resident Clinicians
---
Andrew Heglund, D. A.
Percussion, Jazz in the Schools Director, Associate Professor, UNR
(Jazz Combo Clinics)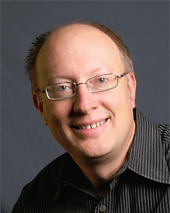 Andrew Heglund is Associate Professor at the University of Nevada, Reno where he teaches percussion, directs the UNR Percussion Ensemble and Jazz Big Band 1. Heglund holds a Doctor of Arts Degree in Music from the University of Northern Colorado and a Master's of Music Degree in Jazz Studies from the University of North Texas.  Since moving to the Reno-Tahoe area in 1996, Heglund has performed with jazz artists Lee Konitz, Cedar Walton, Bobby Hutcherson, Bud Shank, Ravi Coltrane, Robin Eubanks, and Fred Hersch.  He also performs with the UNR faculty quintet The Collective, The Reno Jazz Orchestra, and the Ed Corey Trio.  Heglund has played on four CDs with the Collective (North, Boats, Balance, Once and Again) and one CD with the Ed Corey Trio (Modal Citizen). He also performs with the Reno Philharmonic Orchestra and the Discover Music Percussion Ensemble.  Recently, Heglund was percussion soloist with the University Wind Ensemble for their performance of Joseph Schwantner's Concerto for Percussion and Orchestra. Dr. Heglund is an active clinician/adjudicator in the Northern Nevada and Northern California areas and organizes the annual Northern Nevada Day of Percussion.
---
Ed Corey
Jazz Guitar, Music Theory, Composition Lecturer, Jazz & Improvisational Music, UNR
(Jazz Combo Clinics)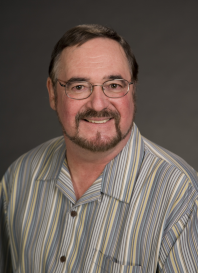 Ed Corey has taught music at the postsecondary level for 18 years and is currently instructor of guitar and guitar ensemble director at the University of Nevada, Reno. He earned his bachelor's degree at the University of New Hampshire, Durham and received his master's degree from California State University, Sacramento. Corey has performed for 35 years as a jazz guitarist throughout the country, and has also performed for many years with casino showroom orchestras in Reno. Ed presently performs in the Reno/Tahoe area with his own jazz guitar group, The Ed Corey Trio.
---
Peter Epstein
Saxophone, Department Chair, Assistant Professor, Jazz & Improvisational Music, UNR
(Jazz Combo Clinics)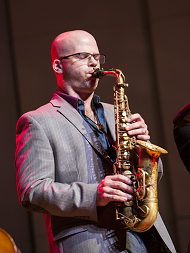 Peter Epstein began his career in 1984 in Portland, Oregon. After several years apprenticing with many of the region's top jazz artists, he relocated to Los Angeles, California to study jazz saxophone and various world music genres at California Institute of the Arts. After receiving a Bachelor of Fine Arts degree from CalArts in 1992 he moved to Brooklyn, New York and has since appeared on more than 50 recordings and toured in 20-plus countries with artists including Brad Shepik, Ralph Alessi, Bobby Previte, James Carney, Joao Paulo, Jim Black, Scott Colley, Ravi Coltrane, Medeski, Martin, & Wood, Peter Erskine, and many others. Peter has recorded seven critically acclaimed albums as a leader:Staring At the Sun (MA), The Invisible (MA), Solus (MA), Old School (MA), Lingua Franca (Songlines), Abstract Realism (Origin), and his latest,Polarities (Songlines 2014).
He is a founding member of the School for Improvisational Music in New York City and has taught numerous workshops at universities, conservatories, and music festivals around the United States (Eastman School of Music, California Institute of the Arts, New England Conservatory) and the world (Nepal, India, Slovenia, Poland, Sweden, Germany, Portugal, Colombia).  He received his Master of Music Degree in Saxophone Performance from the University of Nevada, Reno in 2004. Currently, Professor Epstein is enjoying his tenth year teaching at the University of Nevada, Reno where he is the Director of Jazz & Improvisational Music and Associate Professor of Jazz Saxophone. Peter is a member of the Jazz Studies faculty ensemble, The Collective, and has appeared with the Reno Philharmonic Orchestra, Reno Chamber Orchestra, and Reno Jazz Orchestra. Recent honors include the 2013 Nevada Regents' Award for Creative Activities and a 2014 Nevada Arts Council Artist Fellowship.
---
Hans Halt
String Bass, Jazz Piano Jazz Composition, Lecturer, Jazz & Improvisational Music, UNR
(Jazz Combo Clinics)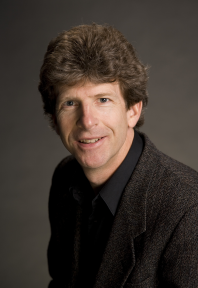 Hans Halt holds his Bachelor and Master degrees from UNR and is a full time instructor of bass and jazz studies at the university. He is currently teaching Jazz Arranging, Jazz History, Jazz Composition, Jazz Improvisation, Jazz Keyboard Techniques and Applied Bass and Piano.
Mr. Halt began playing professionally over thirty years ago in Buffalo, NY. In 1980, Hans moved to the San Francisco Bay area gaining experience playing with top Bay Area musicians, including Mark Levine and Pete Escovedo. Since moving to the Reno area in 1985, Hans has been an active performer and composer with a variety of creative groups, including the Afro-Cuban jazz group No Comprende, The Ed Corey Trio (CD-Modal Citizen), and the University of Nevada, Reno's jazz faculty, The Collective, (CDs- North, Boats,Balance, Once and Again). He also performs regularly with the Reno Philharmonic and the Reno Jazz Orchestra.
Mr. Halt has performed with numerous top jazz artists participating in the Reno Jazz Festival, including Peter Erskine, Bobby Hutcherson, Geri Allen, Fred Hersch, Lee Konitz, Ravi Coltrane, and Avishai Cohen.
Mr. Halt is an experienced clinician, having presented master classes and performances for the Reno Jazz Festival, Music Teachers National Association, and Brigham Young University.
---
JAZZ IN SCHOOLS

"[The students] get the best of both worlds. They get to perform in front of a bunch of people, their friends, other schools, and then they get to have feedback on their performance by some world class professionals."

Andrew Heglund, D.A.
Associate Professor, Music Theory, Percussion
Department of Music
University of Nevada, Reno