by Chuck Reider
Spring of 2021 brings hope that the Reno Jazz Orchestra (RJO) will be able to perform live and in person. We mastered Zoom for meetings, our education programs and even concerts, but now it is time to move on. With that in mind I want to share what we are working on both for performances and in education. First though I want to thank the staff at all the venues we will be performing for working collaboratively to create safe environments to bring us back together with our audiences. I expect social distancing and masks will still be with us this summer.
The RJO initiated a virtual monthly concert series in March, but our April 18th broadcast will include an exclusive small audience of twenty. Nice to hear some applause after each song.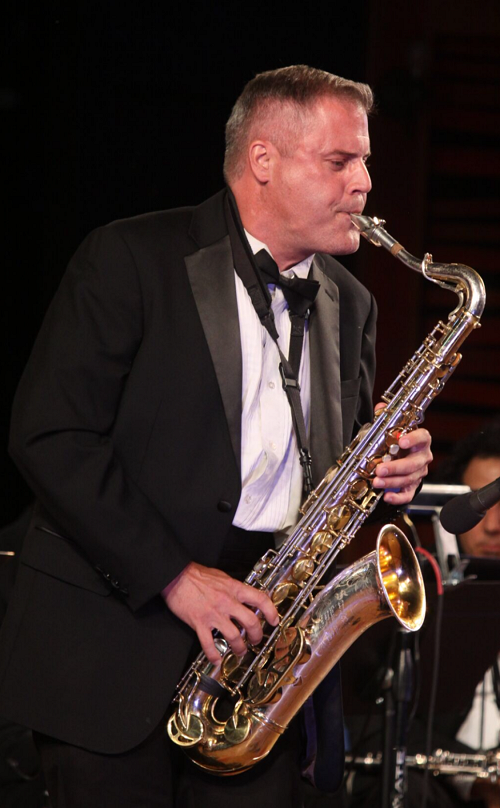 This month we feature tenor saxophonist Doug Coomler's Blue Note Quintet performing classic jazz from the 50's and 60's. Jazz fans are familiar with the Blue Note record label, but if you are not, let me give you some history. Alfred Lion, a Berlin jazz enthusiast, moved to New York City in 1937 and recorded the first Blue Note album in 1939. What began as a traditional "hot" jazz label morphed in a contemporary jazz label with the 1947 Thelonious Monk recordings. Soon to follow was drummer Art Blakey's Jazz Messengers. The 1950's Blue Note added numerous artists including Lee Morgan, Kenny Dorham, and Sonny Rollins. The 1960's brough Herbie Hancock, Joe Henderson, Freddie Hubbard. Lion was generous to the musicians by allowing them to record early in the morning after their club dates. He also paid for rehearsals. Bob Porter of the competing jazz label Prestige Records once said that "The difference between Blue Note and Prestige is two days' rehearsal." If you don't recognize the jazz artists above check them out. You will be in for an amazing musical journey. Be sure to save April 18th at 2pm for a virtual concert where Coomler and band will introduce you to the magic of that era. Coomler has been performing with the band since our first CD recorded in 2000, but has been on hiatus with us for a year or two taking care of family. Great to have him back. Besides being a great saxophonist, he is a great educator co-directing the Reno Youth Jazz Orchestra and now teaching music at Mendive Middle School. May 16th is our next performance and will keep you posted on details.
Artown, we will be at the Hawkins Amphitheater July 30th featuring the music of Earth, Wind, and Fire (EWF). We were scheduled to perform this last year, but making a bit of lemonade out of lemons the RJO decided to record a "socially distant" album of this material this past fall and winter that will be available at our concerts. A very interesting undertaking that I will describe in more detail in a future column. Be sure to hold that date. EWF is the perfect tonic for coming out of the pandemic as their music emphasized personal positivity and universal love. Something we all can use a bit of. August 22nd vocal jazz legend Diane Schuur joins us for a matinee concert at Nightingale Hall at UNR. She took the jazz world by storm with two Grammy winning albums, Timeless (1986), and Diane Schuur and the Count Basie Band (1987). Since then, she has recorded twenty albums in a variety of styles and guest artists. The RJO will perform both of these programs as a part of the Lake Tahoe Music Festival's Monday night series. They have been extremely busy re-working their summer program and preparing the theater for reduced seating. When the details arrive I will be sure to share. Carson City's Jazz and Beyond Festival is making plans for August and we are slated for August 29th at the Capitol Amphitheater.
After a year of virtual instruction, the RJO education programs are also starting to meet in person following the WCSD COVID protocols. Five High Schools signed up this spring for our Mentor Program: Incline, Damonte Ranch, McQueen, Carson, and Truckee. Eight RJO mentors are visiting those school bands to share their experience in performing and instructing jazz and provide a total of thirty-seven sessions. A note of thanks to our private donors, the State of Nevada, City of Reno, and the E.L. Cord Foundation for allowing us to provide the Mentor Program at no cost to the schools. Our Saturday jazz workshop resumed April 10th in person in the Good Luck Macbeth theater (our home!). Putting bell covers over their horns and wearing a face mask with a slit and, of course socially distant Director Dylan Coleman was able to work with the students in person. Quite an improvement over last year as only the first workshop on March 14th occurred in person with both the rest of the 2020 spring and fall sessions online.
The past year has been a challenge for all of us but in particular those that lost family and friends to COVID. This spring brings much needed optimism and I am looking to see you all and maybe even get a handshake or hug!
Chuck Reider is the Executive Director of the Reno Jazz Orchestra
Follow this link for more information about our virtual concerts.
Follow this link to explore all our music videos on YouTube.