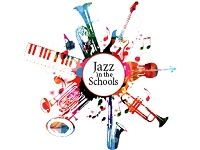 Information for Jazz in the Schools 2021 Coming Soon.
JAZZ IN THE SCHOOLS EVENT OFFERS ALL-DAY PERFORMANCES
For the last 20 years, the RJO has hosted an annual Jazz in the Schools event. This one day event is an opportunity for jazz ensembles from Northern Nevada to perform for feedback from nationally recognized clinicians. This event is provided at no charge to schools, participants or attendees. The mission is to bring students together to perform for one another and work with RJO musicians in the form of a clinic. Over the years, Dr. Andy Heglund (UNR Music Professor/RJO drummer) has been instrumental in growing the event. This past year 17 big bands, 2 choirs and 5 combos performed at UNR for two outstanding clinicians. This local performance opportunity also helps the ensembles to prepare for the Reno Jazz Festival (RJF) in which they are rated. Those schools who have participated have seen a consistent improvement in their scores at the RJF over the years.
For more information or to sign up your child for our the next Saturday Jazz Workshop, contact Nichole Heglund at nichole.heglund@renojazzorchestra.org.
---